Golf Buggy Addon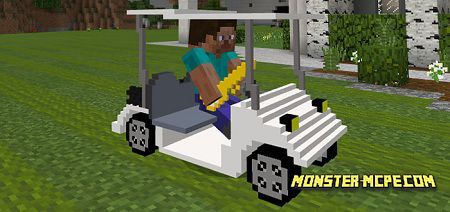 New vehicle as a
golf car
was represented in
MCPE
, it replaces the Creeper. As you could guess, this vehicle is not so fast, but its very good for those who like to play in golf in MCPE. Golf car will serve as pleasant addition for a game in golf. As it was mentioned before, it replaces creeper, that is why it will be not so hard to find this vehicle. Golf car spawns in most of the locations in your world, also, player can spawn it with help of spawn egg. Unfortunately for now, only one player can use it, but in future it will be available for two players.
Description of gaming process:
In order to spawn golf car player can use spawn egg of creeper or simply find in your world. In case if player would like to use it, he/ she should press some keys:
Windows 10:
right click;
Android or ios:
press on vehicle and click on ride or drive.
For driving golf car, player should point direction where he/ she wants to drive, in order to stop this vehicle just dismount. In case of some bug, even after player dismount this vehicle, it can continue to drive.