SG Power Plushies Addon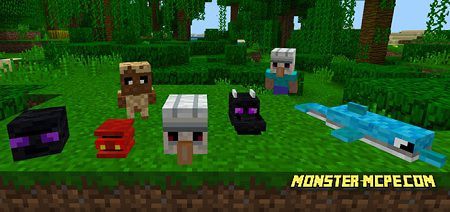 Here is a new
mod
for MCPE - it has really great potential,
sg power plushies
, was added 6 new items into the game, while holding this plushies, you will get stunning status effects. Very hard to find their, but it's worth it, they are much powerful and gives you more advantages when you play, also, will greatly help you in game process.
While wearing these items you will get a great status effect:
Items to wear:
Head of an enderman: vision at night

Head of a dragon: more health

Head of iron giant: more health, regeneration

Items to hold in hands:

Husking: increasing speed, +50% health

dolphin item: underwater breath, +50% health

Magma cube item: jumping boo

These items can fall from mobs, its like heads of mobs, but do not forget that these items is very rare, its difficult to find it, but as it was mentioned before, it's worth it.