Notch Is Back!? Add-on 1.16.40/1.16+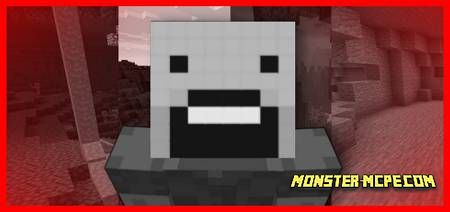 Do you know who Notch is? We are sure that many people know, but still, for those who do not know, this is a Swedish programmer and game designer. This man was the owner of the Mojang company and is also the creator of the popular computer game Minecraft. Would you like to add it to the Minecraft world? We are serious ... The new
add-on
allows you to add many Notches to the Minecraft world! These will be another small boss in the Minecraft world that you can fight with.
Also, players will have the opportunity to discover another way to obtain an enchanted golden apple. Of course, by killing the new boss whose name is Notch!
As mentioned earlier, this add-on adds another mob to the Minecraft world, namely, a mob called Notch, below you can see how it will look in the game: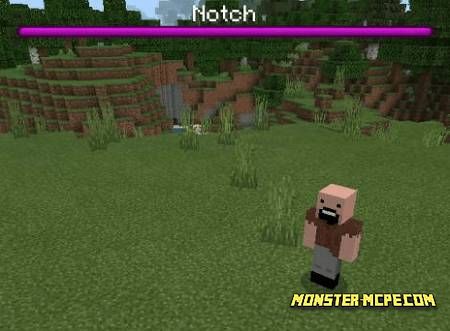 This is a fairly strong boss who has 150 health points that use special apple disks in order to attack his enemies. The damage from apple discs is 5. But that's not all, after Notch hits you with an apple disc, a small Notch minion will appear at your feet. Below you can see how it will look in the game: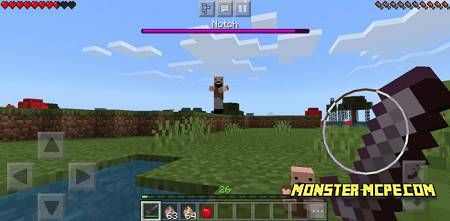 Notch minions have only 5 health points, and they are quite small: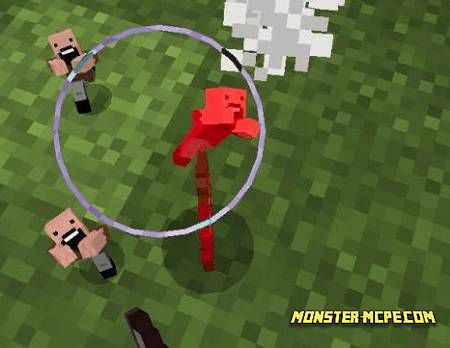 Please note that these mobs cannot die of falling from a height, so don't even try. But the player can use fire to burn them, or the usual way is the sword. In order to kill a minion with one blow, you need to use at least a stone sword and swords of a higher level. We also draw your attention to the fact that these creatures move fast enough, so be careful.
Attention, we draw your attention to the fact that the main goal during the battle will not be the Boss Notch himself, but his minions, since with each hit of the apple disk (and there will be many such apple attacks) minions will appear and attack you. The frequency of shooting apple discs is very small, in other words, Notch shoots very often and will hit you.
In order for you to understand how much health the boss has left, you will see a special Notch health indicator.

After you have killed the boss, an enchanted golden apple will drop from him.
How to summon Notch?
It's easy enough, just craft a special Suspicious-Looking Apple. You can see the recipe below: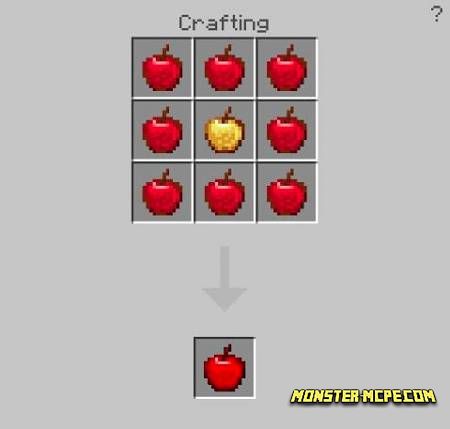 Received after crafting Suspicious-Looking Apple, throw it like a trident, and then Notch spawns! After the player throws the apple, he will quickly spawn in the Minecraft world, so get ready for battle!
Also, players have the opportunity to fight with baby-type Notch. But please note that this boss will be faster and stronger.
Notch Is Back!? Add-on 1.16.40/1.16+