Wasps and Grasshoppers Add-on 1.16/1.15+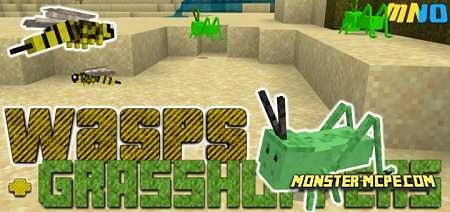 Do you like insects? Would you like to add insects like wasp and grasshopper? If yes, then this addon is what you need. Using the new
addon
, players will add new types of insects to their Minecraft world, namely grasshoppers and wasps.
Everyone has seen and heard wasps, and they even stung some. These are yellow-black or black-yellow insects that collect pollen from flowers. They have a small sting that they use to sting people or other creatures when they feel in danger. Despite the fact that they have a small sting after the bite, the wound will be very painful. Also, note that after the wasp stings you, it dies, so it is better not to provoke these creatures.
As for grasshoppers, these are harmless insects that can only harm vegetation or the crop as a whole. They have a very interesting shape and are able to jump long distances thanks to their large and strong hind legs.
Let's take a closer look at the new insects below.
Insects:
1. Grasshopper: As mentioned earlier, these are harmless and neutral insects, even in the world of Minecraft. All they can do is jump around. Players can tame them by using pumpkin seeds or beetroot seeds. In order to breed this insect, you need wheat seeds. After you tame them, they will follow you everywhere. These insect mobs live in places such as taiga and plains.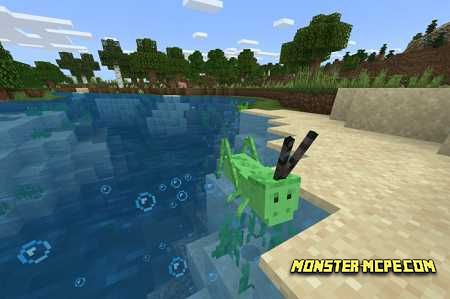 2. Wasp: These are small but at the same time dangerous insects that are armed with a sting that can sting very painfully. These mobs live in different biomes, but most often in the plains. Be careful when approaching them, otherwise, you risk getting stung.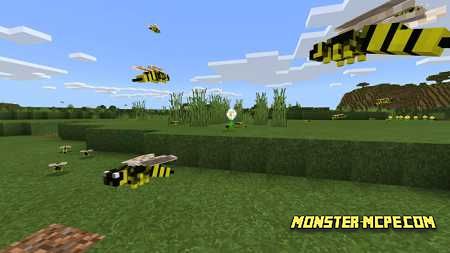 Wasps and Grasshoppers Add-on 1.16/1.15+