Toyota Supra MK IV Add-on 1.16/1.15+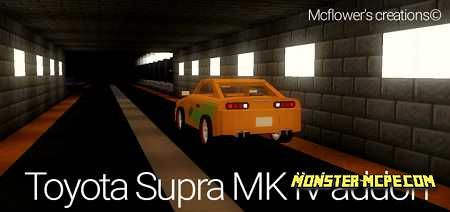 Have you watched the movie Fast and the Furious? This is a very cool movie with cool racing cars, one of which you can add to your Minecraft world. Which one? We are telling you about the
Toyota Supra
. This is the car of the main character of the second part of the movie Fast and the Furious. This car is also one of the representatives of the class of JDM cars.
Toyota Supra was first produced in 1978 by Toyota. This is a Japanese racing and sports car. As you can see below, the creator of the
addon
tried to convey all the details of this car model as well as possible. The addon has added animation of the wheel and steering wheel, as well as much more, for example, headlights that can illuminate your road at night.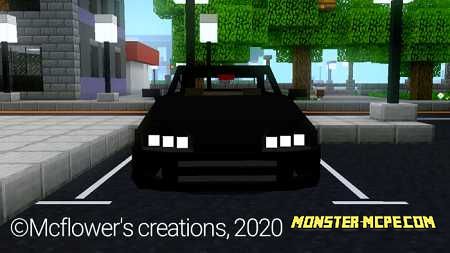 This vehicle can carry up to 2 players. This is normal since in most sports cars there are only two free seats, one driver's seat and one passenger's seat. Below you can see how Toyota Supra looks in the game. We also draw your attention to the fact that in the game the car will be available in three colors, of which there will be two simple ones, namely white and black and one special, like from the Fast and the Furious movie.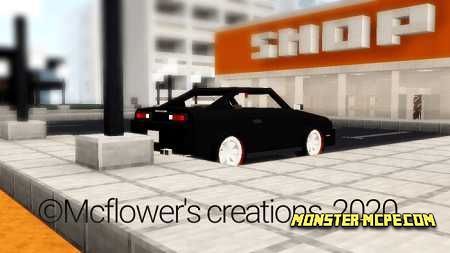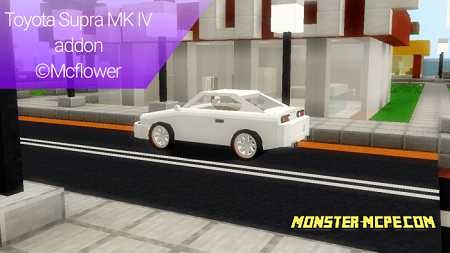 Also, below you can see an example of how the headlights illuminate the road at night: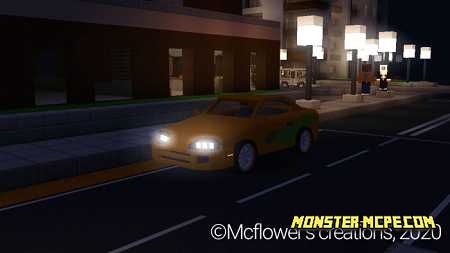 This car is different from many others that you may have previously seen so that it drives very smoothly.
We draw your attention to the fact that in order to remove a car from your world you need to use a special command, which is most often used for entities, namely /kill with the following text: @e[type=toyota:supra_mk4_white,r=6], for a black Supra and Orange car, as from a movie, just change the color in the specified command, for example, to _black or _orange!
Toyota Supra MK IV Add-on 1.16/1.15+