Minecraft 1.16.0.55 for Android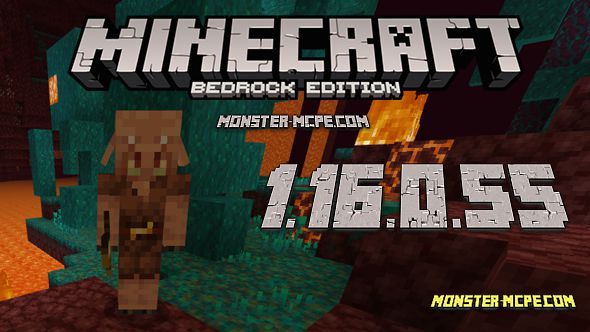 And here is the long-awaited Minecraft
update
for Android users. New update
Minecraft Bedrock Edition 1.16.0.55
with working Xbox Live! New biomes, structures, and mobs await you.
What's New in Nether Update 1.16.0.55?
Finally, the developers of the Mojang studio released a new beta version of Minecraft BE 1.16.0.55 in which they added the necessary update elements. Also did not forget about the optimization of the gameplay.
Let's take a closer look at what has been changed in the biomes of the Nether Update.
The new Nether Update is perhaps the most anticipated and probably one of the best updates in the world of Minecraft. This update was recently released by the developers of the Mojang studio but has already won the hearts of thousands of players since a lot of new things have been added to the Minecraft world with the new version, namely biomes, mobs, structures and much more. One of the important decisions that Mojang developers made was to divide the Nether into four different biomes. Let's quickly figure out what these new biomes are in the Minecraft Bedrock Edition 1.16.0.55 update.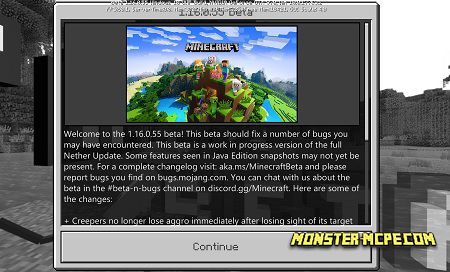 New biomes:
1. The first biome to which we will pay attention is Soul Sand Valley. This is a large and deep cave that is completely filled with Soul Soil blocks and sand. Throughout this biome you can see fossils;
2. Crimson Forest is the next biome that consists of red blocks with red fog and blazing particles. In this biome, there are new hostile mobs called Hoglins and Piglins. Here you can also see many unique plants, for example, Weeping vines;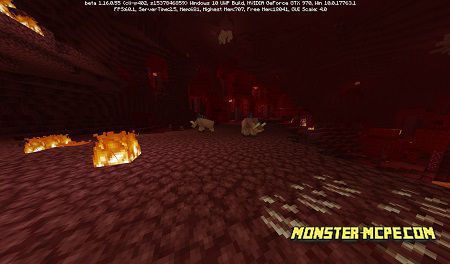 3. Badlands is an old biome that Mojang in the new update made as one of the four biomes of the Nether Update. Here, players can find ancient debris;
4. And the last biome is Warped Forest. This biome is similar to Crimson Forest but without an eerie red glow. Instead, this biome consists of distorted blocks of turquoise color. This biome has its own features, one of which is its inhabitants, which are Endermans.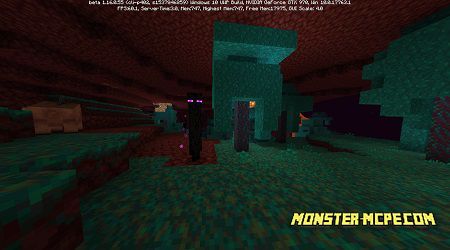 We can talk about new biomes for a very long time. After all, as was mentioned earlier in the new update, there are so many interesting things. There are so many different structures, interesting things and features that we have already talked about in one of our previous articles. You can read more about the new biomes by reading our Nether Update article.
Bug fixes
In the new Minecraft BE 1.16.0.55 update, the Mojang developers fixed a large number of bugs found from the previous beta version.
Thus, more than 20 different bugs were fixed.
Below you can see some basic fixes in Minecraft BE 1.16.0.55:
1. Optimization was carried out in worlds in which the size exceeds 250 MB. This will help players get rid of bugs with not loaded chunks;
2. The ability to draw water from the blocks in which the bubbles move;
3. Now the float will not touch the parrot that sits on the player's shoulder;
4. Hitbox of Ghast now matches their render.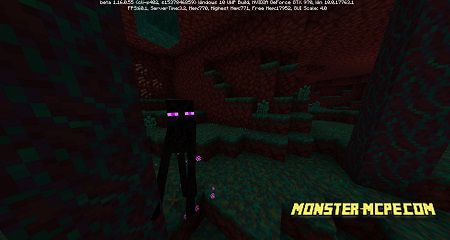 Minecraft 1.16.0.55 for Android