How to Install Minecraft PE maps for Android?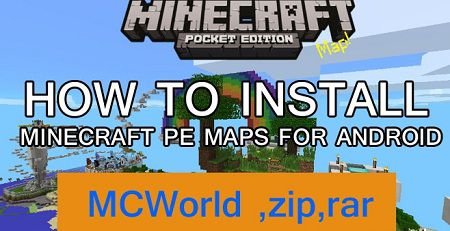 Hi, guys! Now we gonna show you how to install MCPE map on Android. There are 2 types of maps for the game universe. First is called .MCWorld and second one may be as .zip. Installation can be done with help of Blocklauncher. The new version of MCPE is optimally in this case. We'll tell about the actual release of application in the and of this showcase.
Installation .MCWorld in Minecraft PE
Use a file manager first. Usually it's already installed on your devise by default. Take a look at the imaje below.

The next point consists in finding the necessery fale with downloaded map for MCPE in the file system.

Then a new window will appear on the display. Determine the file's type, then click on it.

For the ending you have to open the map. Start Minecraft portable application and that's done! As we can see, a game client generated a world automatically.
Step No1. Get the map file.
Step No2. Use a file explorer.
Step No3. Run the application on and choose the map file.
Step No4. Extract it to direction: /storage/emulated/0/games/com.mojang/minecraftWorlds/
Step No5. Run MCPE client and choose thevmap in list of worlds.
How to Install Minecraft PE maps for Android?