Hat Heads Texture Pack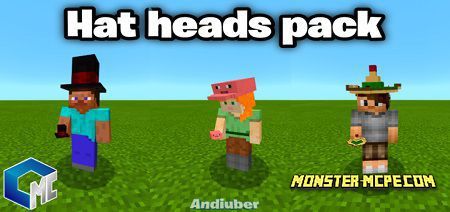 A new and very funny
texture pack
that replaces custom heads in Minecraft with heads with hats! In general, 6 new types of hats will be added to the game.
The player can get hats by opening his inventory or playing in creative mode. In creative mode, the player should open a section in which he can put a hat on his head.
Please note that the player can put on hats not only on his head but also use them as a decoration as a block.
Amaze your friends in a new way!
Here is a list of all the new hats you can use in the game:
— Pork;
— Mario's;
— Fancy;
— Enderman;
— Creeper;
— Mexican!
Here's how the hats will look in the game:
Below you can see the video: