Happy Villagers Addon 1.14+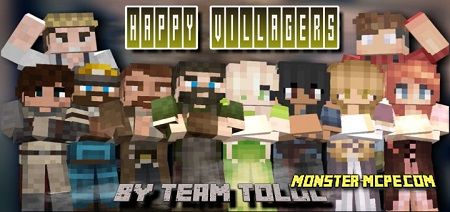 Would you like to change the familiar look of the villagers? We know for sure that yes, especially those players who play Minecraft for a long time. Using the new
addon
, the villagers familiar to everyone will get a new look, make them more similar to the characters of the players, as well as other new features.
Imagine the villagers, each of whom will have an unusual appearance. All villagers will be similar to the different characters of the players, each of which will have a look in accordance with his profession.
As mentioned above, all new models will be similar to the models of the characters of the players, and also depends on what kind of profession the villager has. New skins will fully correspond to all professions, such as farmer, fisherman, librarian, and others.
See the screenshots below how it will look in the game: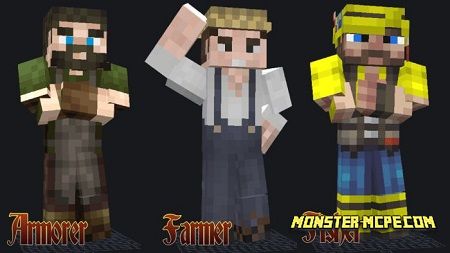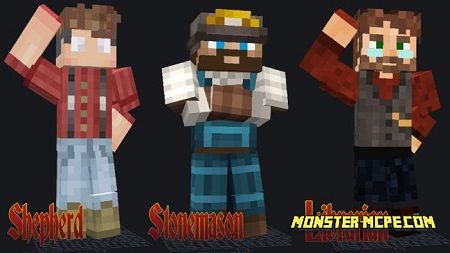 In addition to these skins, for the villagers, there are other additional skins. Let's also consider them below: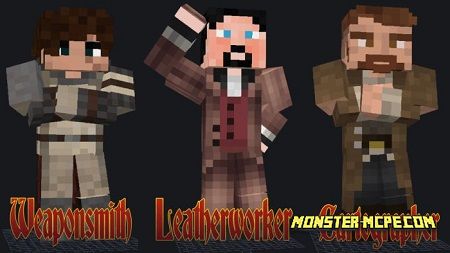 1. Not just villagers, but women villagers. The difference between the old villager and the villager woman is only in appearance and amount of health, women have more. See the screenshots below how it will look in the game: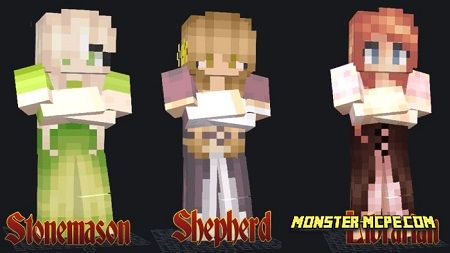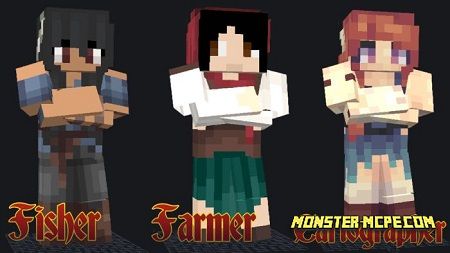 2. The guards. This type of villagers is needed in the village so that the rest of the villagers feel safe.
3. The priest. See the screenshots below how it will look in the game: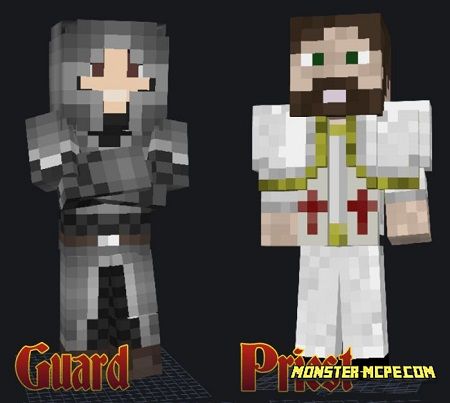 Extra features:
Using this addon, villagers will not be breed as it was automatically earlier, for this you will need to use items such as emeralds and diamonds. To do this, you need one man and one woman, use the item and a new villager will be born whose gender will be determined randomly. Please note that you cannot use security guards for this.
In order for your village to seem more lively, any villager can spawn a similar or another villager, for cohabitation in the house.
New types of villagers will spawn after the previous ones change their profession or simply spawn others.
All this is done so that the population of the village grows and your village develops and seems more lively and interesting.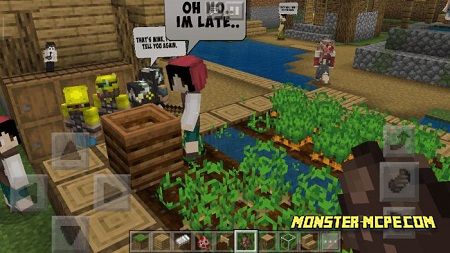 Another very interesting feature of this addon is the chat window above the heads of villagers. This is much more interesting than the usual old sounds.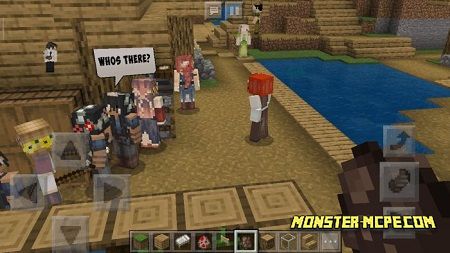 A very interesting feature is also the ability of villagers to move around different blocks, such as stairs and others.
ATTENTION: Do not forget to activate the Experimental mode.
Happy Villagers Addon 1.14+