New Foods Add-on 1.16+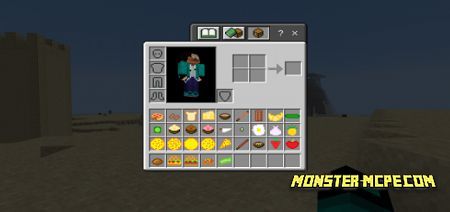 A new
addon
that adds to the list of products in Minecraft. In addition to new products, a new item has been added, this is a knife. At the moment, this addon is presented only in beta, so the list of products is small, but in the future, there will be more. Follow the news in order to learn more about the upcoming update of this add-on.
Below is a list of products that the new addon adds (in brackets you can see what it was crafted with):
— Chicken (stick + boiled chicken);
— Cheese (milk + wheat);
— Pizza ((1) cheese + (4) wheat + (4) tomatoes);
— A slice of pizza;
— Pork (stick + pork);
— Tomato;
— Knife (stick + iron nuggets (2)).
Addon Versions:
First: 0.1.0
— Added all the above products;
— Pizza as a product lasts longer than everyone else, a slice of pizza is less;
— ATTENTION: unfortunately, the loot table does not work, so in order to get tomatoes you need to use the command. The developer is working on it.
Second: 0.1.1
— Added a new item — Knife! Now does not add up.