More Cows Add-on (1.8)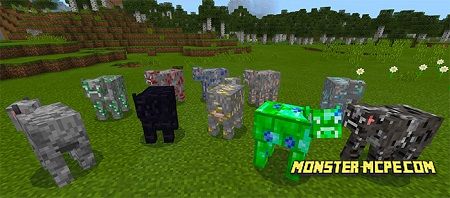 Perhaps, it is the first addon which is not replacing but add new creatures into the game. Please note, that this addon is working only with beta update (1.8). Here was added eleven types of cows, each of them spawning automatically in their areas.
How it works?
The types of added cows is mentioned below (all creatures, except Quartz, spawning in their basic biome):
Types of cows
1. RedStone
2. Old
3. Iron
4. Coal
5. Emerald
6. Obsidian
7. Cobblestone
8. Lapis
9. Diamond
10. Experience
11. Quartz, which is spawning in Nether biome.
The loot of each creature, is depend on the type of cows (iron cow - iron ingot, etc.)
As for special type of cow - Quartz, as it was mentioned before, they spawns in Nether area.