Magicá Addon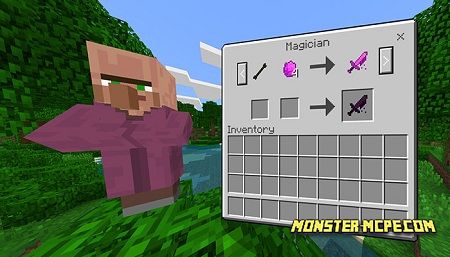 This
mod
is given you opportunity to be a mage, with new weapon and new magic skills. In order to become the strongest mage, you should research 5-th element source and reach to the crown.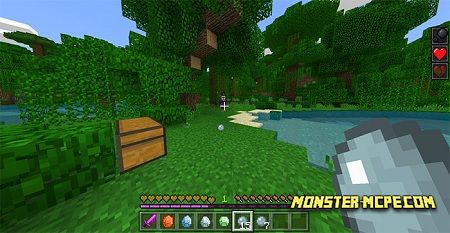 Game basis
When you will get a first magical contact, your system of experience will be disabled. It means that you will not get an experience from killed mobs, mining of ores etc. In order to get experience and increase your level, the functions of your bar of experience will work as Mana bar.
Spell formulas
Interaction with some objects can gives you opportunity to get some magical spells. It is one the most useful things while using this mod.
Weapon of magic
Here you can get 6 new magic weapon items:
-"water cut" — greatly increase your health, breath in water, damage is low;
-"earthshatterer" — damage is low, greatly increase health, ability to see at night, haste;
-"whirlwind" — damage is high; little health increase, speed;
-"magicanion" — all elemental four swords combine and combine all the advantages;
-"soulsmasher" — can be used by villagers, pretty big damage, little health;
-"flamestrike" — big damage, little health increase, resistance to fire.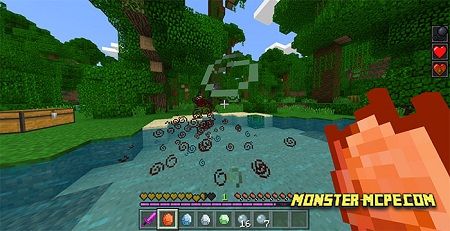 Available to use this spells:
Using powerful 5 spells in this mod.
Take one of available gems, hold it in your hand;
You may see some particles which will surround you, these particles will look like the element you hold, after timer will start.
Use "infusable stone" in order to throw it. Has power of elementals and can free his power when hits object you would like to attack.
Please note that if you was not infused, that stone will back in a moment.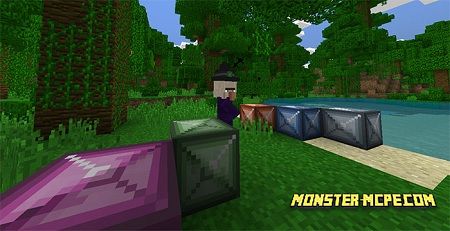 Available blocks:
— air — when skeletons will stand around this block, they will levitate into the air;
— fire — snow and ice will smelt near it;
— earth — near this block zombies get frequent damage till they die;
— water — around this block explosions of creepers will be prevented.
New ores:
Player can find 4 new ores which can be spawned under ground.
Useful information:
In case if you want to turn some object, use formula;
Ability to transfer villager into mage and chicken into villager;
Get forty levels after infusion more than five sec., your formula will be empty after that.